Book your party with Travelin' Tumblers today!
Rather than hiring performers, let the kids be the stars of the show! Travelin' Tumbler's will come to your house or selected location, and bring the equipment, instructors, insurance, and excitement with us. You can rest assured that your party guests will be engaged and entertained. Our parties are structured for children ages 1 through 7, and are carefully planned, well coordinated, and age appropriate. We can accommodate parties up to 50 kids, bringing extra instructors if necessary, to ensure everyone has a fun and safe time.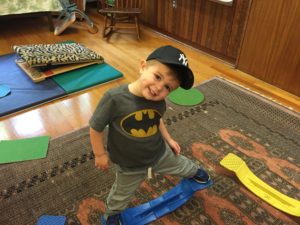 We begin our parties by playing with a parachute and singing songs, which is a great opportunity for parents to take adorable pictures. Then we turn on the music and let the kids adventure through our amazing obstacle course. We bring plenty of tumbling equipment and fun props to ensure that everyone can maximize their tumbling time, rather than waiting in line. Our birthday parties also offer the option of adding optional arts and crafts sessions or an inflatable moon-bounce. Click here for the Birthday Party Registration Form. Print it out, complete the form, and mail the completed form in with a $50.00 (non-refundable) deposit.