Tumbling Class Information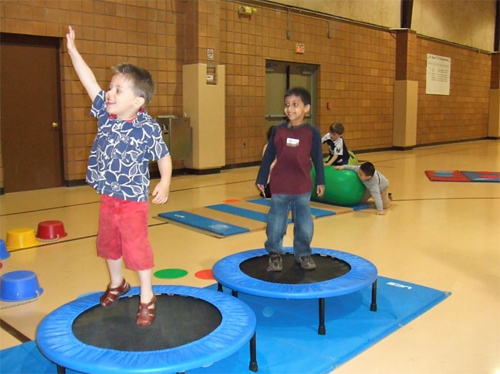 Our classes begin with a musical warm-up that focuses on stretching and modified yoga positions. This segment also includes singing, counting in different languages, body identification exercises, and alphabet recitation. The following segment, the tumbling portion, is the core of our program and concentrates on building manipulative loco-motor skills with the use tumbling equipment and props to create a dynamic circuit. The children practice turning, hanging, swinging, jumping, catching, balancing, climbing, stepping, and rolling while exploring space relations (under, over, distance), lateral movements, and speed variations.
All activities are supervised so the children learn proper tumbling techniques. Children thrive in our caring environment where they feel physically and emotionally safe. Class finishes with the children receiving a stamp on their hand for a job well done. Our curriculum ensures steady progress and rewarding accomplishments, and the variation of themes builds on previous skills to guarantee a dynamic and fun challenge.
Click Here for the Tumbling Class Registration Form
Preschools and Daycare Centers:
We offer 30 minute, 45 minute, and 1 hour classes, and different payment programs. Fees may be paid either by the school on an hourly basis, or by the parents on a per student basis. Call us for a free demonstration at 732.302.5850.