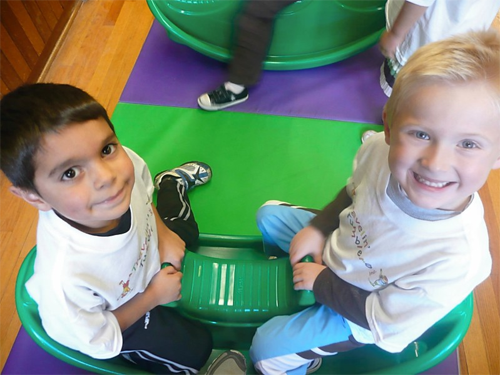 Travelin' Tumblers offers multiple specialty theme programs throughout the year. These theme programs are booked per event. We are available to all preschools and daycares, including those  with other enrichment programs. Our special programs are a great way to treat the children to an exciting day that involves learning and fitness. We bring the equipment and instructors to you. We incorporate these special themes into our regular curriculum at schools that offer our weekly classes.
WORLD CUP: For our World Cup, we focus on the basics of soccer. We practice dribbling, and shooting right in our tumbling obstacle course!
BEAR HUNT: Travelin' Tumblers' Bear Hunt is a musical search for the elusive bear through peanut butter rivers, jell-o swamps, and candy factories. We incorporate our bear theme into tumbling and try bear rolls, bear swings, and bear jumps.
CIRCUS: Ladies and Gentlemen, step right up for Travelin' Tumblers' Circus theme. We pretend to tame the lions, prance like ponies, and walk like clowns. We also practice juggling and experiment with rhythmic ribbons.
GEORGE OF THE JUNGLE: Travelin' Tumbler's George of the Jungle theme is based on the music from the movie. We climb aboard a raft and head into the jungle in search of some fun and excitement. Whether it's climbing a volcano or swinging on a vine, this theme will please all, just "watch out for that tree!"
SUPER BOWL: Travelin' Tumbler's Super Bowl Week creates an atmosphere of charged energy, for the biggest game of the year. We're both cheerleaders and football players. We get our arms and legs warmed up with some cheers, and then practice passing, catching, kicking, hiking, and punting with various football sizes.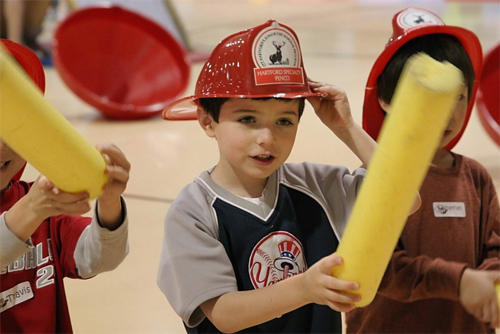 FIRE FIGHTER FUN: Travelin' Tumbler's Fire Fighter Fun theme teaches the children the basics of Fire Prevention through fun games like "Stop, Drop, and Roll," "Put out the Fire," and "The Bucket Brigade." If your school has visits from the local Fire Preventions Unit, Travelin' Tumblers' refreshes and enhances the children's knowledge.
MARCH MADNESS: "Dribble it, Pass it, We want a Basket!" Travelin' Tumbler's March Madness turns your school into a basketball bonanza. We cheer "Go Team Go," use basketballs to slam dunk, and run sprints like the real players!
SURFING: For our Surfing unit the kids pretend they're in a water wonderland. We look for the perfect wave, paddle out on our boards, and hang ten. We bring along our surfboards and beach balls to make this day extra special.